About
Who We

Are NOT
We are not a faceless internet "paper mill" outside of California. We are not Document Peddlers sending you worthless copies. We are not Paralegals misrepresenting ourselves as lawyers. We are not down and out, washed-up lawyers trying to make a few bucks – working from laptops in some hipster coffee house.
Who We

ARE
We are schooled, competent, experienced California Tenant's Rights' Attorneys. Real attorneys with a thriving and growing Tenants Rights Legal Practice.
Vincent W. Davis, Esq. Founder


Where We

ARE
We serve Tenants and Renters here is Southern California and all Tenants NO MATTER WHERE they might live in California via phone, fax, email and Fed-Ex.
We have a lot of Tenant's Rights experience to share with folks BOTH here in Southern California as well as those spread up and down the state. We are here to help tenants and renters whose landlord is giving THEM a hard time! Providing the knowledge to "Fight Back!" Not only are we REALLY GOOD at helping people remotely no matter where you live – – for those folks who live in Los Angeles County, Orange County or within driving distance for our offices we look forward to meeting you face-to-face if you chose to visit us in person.
Yes! Unlike many "so-called" Tenant Lawyers who "pop up" sporadically here and there across the United States, we actually work from a "real" Brick and Mortar office in Southern California. In fact, we have five offices spread throughout the Southern half of the State.

So why would we offer our services for a mere $100 per 1/2 hour?

Because we can!
We've been blessed and successful in our law practice and it is clear to us that tenants simply don't have many opportunities for good, honest, competent and AFFORDABLE legal counsel. Chances are good you've learned that this is true after searching the Internet for Landlord-Tenant Lawyers. What you found were 1,000's of lawyers catering to "Landlords!" Why is that? Think about it! Who has the money? Who has the assets? Who has the "deep pockets?" Answer: Property Owners… Is it any wonder that the majority of attorneys would then cater to those with the money to pay huge legal fees?
Unfortunately, on the tenant side of the Landlord-Tenant equation, there very few private practice California Tenant's Rights' Lawyers. There are some FREE and "almost free" Legal Aid Clinics here and there and that's about it. However, most legal aid offices are in the urban downtown areas of big cities like San Francisco. If you CAN FIND a competent Tenant Rights' Lawyer her or her fee will often start at $2,500 and up! Yikes… Here is a screen shot from a Tenant Lawyer's Website in Los Angeles California.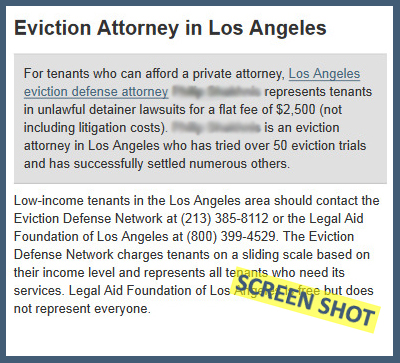 That's a pretty "stiff" retainer for most tenants. If you can afford it, we're sure the legal services are well worth the fee – but what about the 9 out of 10 tenants who simply cannot afford to pony up $2,500?
So We Decided

to Specialize in affordable Tenant Defense Services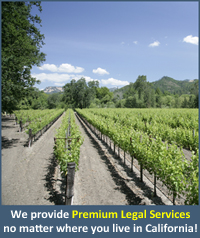 We've decided to offer top-notch, legal consultations and professional, tailored document preparation including Unlawful Detainer Answers for California Renters at the prices that a Legal Aid Paralegal might charge – – – that is, if there was one close by and if you could actually drive to their downtown offices. To take it a step further, we want to provide Tenant's Rights' Legal Services to ANY RENTER anywhere in the State of California without the need for our clients to drive to one of our offices if they were not within driving distance. If you are close by, make an appointment and come visit. If not – no matter!
This is the Internet Age! If you are in an isolated mountain community of 300 residents, or out in a remote vineyard in Napa County you can now get the same high-end legal services as those renters a block from our Southern California Offices and never leave your kitchen table!
This is more efficient and it allows us to offer Premium Legal Services at Legal-Aid costs! Obviously, it is less costly for you and for us if we are able to provide you Legal Consultations by phone as well as reviewing your documents which you either scan and email or fax to us. Similarly, if you have us draft legal document for you (an answer to an Unlawful Detainer Lawsuit, for example) we can email you the PDF and you can print it there at your kitchen table and beat that very quick 5-day window. If you don't have a printer, we can send it to a local Kinko's, or overnight it to you via UPS or Fed-Ex. Most landlords expect ALL of their tenants to shrink like a wall flower and sit back while the court enters a default judgement.
Not Our Clients…

Our clients

Fight Back!
Please call our California
Tenant's Rights Law Office
at
(888) 506-6810
OFFICE HOURS: Monday - Friday 9:00 am to 7:00 pm.
TELEPHONE HOURS:

We attempt to connect you with an Attorney up to 10 PM ~ 7 Days a Week!
---
Law Offices of Vincent W. Davis
"You may not own it — But it's still YOUR HOME"
Serving Los Angeles County, Orange County and all of Southern California
---
Where We Can Meet You? - Contact An Attorney Now

Arcadia Office
150 N. Santa Anita Ave,
Suite 200
Arcadia, CA 91006
Phone: (626) 446-6442
Fax: (626)-446-6454
Beverly Hills Office
9465 Wilshire Blvd.
Suite 300
Beverly Hills, CA 90212
Phone: (310)-880-5733
La Mirada Office
Cerritos Towne Center
17777 Center Court Drive ,
Suite 600
Cerritos, California, 90703
Phone: 888-888-6542

Los Angeles Office
Gas Company Tower
555 West Fifth Street,
31st Floor
Los Angeles, California, 90013
Phone: (213)-400-4132
Long Beach Office
Landmark Square
111 West Ocean Blvd.,
Suite 400
Long beach, California, 90802

Irvine Office
Oracle Tower
17901 Von Karman Avenue,
Suite 600
Irvine, California, 92614
Phone: (949)-203-3971
Fax: (949)-203-3972
Ontario Office
Lakeshore Center
3281 E. Guasti Road,
7th Floor
City of Ontario, California, 91761
Phone:(909)-996-5644
Riverside Office
Turner Riverwalk
11801 Pierce Street,
Suite 200
Riverside, California, 92505
Phone: (909)-996-5644
San Diego
Emerald Plaza
402 West Broadway,
Suite #400
San Diego, California, 92101
Phone: (619)-885-2070
Aliso Viejo
Ladera Corporate Terrace
999 Corporate Drive,
Suite 100
Ladera Ranch, California, 92694
Phone: (714) 721-3822