Fighting Eviction
The Law Office of Vincent W. Davis focuses on

defending the rights of California TENANTS to a safe, healthy and secure home.
Being Evicted? FIGHT BACK!
— The Law Offices Vincent W. Davis
Defending an Eviction Lawsuit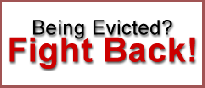 The key to the successful defense of an eviction lawsuit (called an unlawful detainer) is to act early. A tenant who hires an lawyer as soon as s/he gets a Notice to Quit (a landlord's eviction notice) has the advantage of having up to 60 days for her attorney to investigate the matter and attempt to settle the case.
If your landlord is trying to evict you, then he must follow very specific procedures consistent with tenants' rights, such as providing an eviction notice to you that specifically outlines the reasons for the eviction.
If your landlord is trying to evict you without cause you may be entitled to certain reloction costs as dictated by the city in which you live. For example, in the City of Los Angeles, there are mandates that specify relocation costs between a few thousand dollars up to $18,000. If you were to feel threatened and overwhelmed by a the landlord's attempt to evict you and simply vacate your home without looking into the situation or consider Fighting Back, you might miss out on tens of thousands of dollars owed you in certain instances.
Unrepresented tenants often find the eviction process complicated and end up losing their cases and forfeiting their tenant rights normally available to them under the law.
How it Goes Down…
Here is a brief overview – of the steps in an eviction proceeding. The first thing the landlord must do is give the tenant notice to move out (a 3-Day, 30-Day, or 60-Day Notice). If the tenant does not move out, the landlord must then file a lawsuit (an Unlawful Detainer) and serve a copy of the lawsuit on the tenant. The tenant then has only five calendar days to respond to the lawsuit. If the tenant does not respond in time and in the proper written format, s/he can be evicted without ever being heard in court.
The "answer" to a "summons and complaint" must be filed with the court. The response must be either a properly drafted pleading (legal document) or a properly completed form answer. A letter or phone call will not be enough. A tenant who is not familiar with this legal process can jeopardize their chances of winning their case.
The minute the tenant's attorney files the "answer" to the "complaint," the attorney can request written discovery (send questions and requests for documents to the landlord to be answered under penalty of perjury). The tenant's attorney can also require the landlord to appear for a deposition (answer specific questions under oath) regarding the case. This helps the tenant's lawyer prepare a defense to the eviction lawsuit.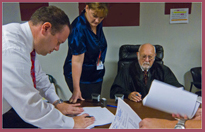 The tenant has a right to have the case heard by a judge, and if s/he wants, by a jury. Trial by jury means that ordinary people get to hear the tenant's side of the story and decide who wins. Many tenants feel this is better than just having a judge hear the case. Many tenants and their attorneys will convince the landlord to make an amicable settlement just by suggesting a jury trial.
Tenant's Rights Attorney Vincent W. Davis can help tenants fight powerful property management companies, big apartment building owners, as well as smaller, but perhaps overly-greedy "mom and pop" landlords. Call for more information about how we can help you with your eviction defense case.
Please call our California
Tenant's Rights Law Office
at
(888) 506-6810
OFFICE HOURS: Monday - Friday 9:00 am to 7:00 pm.
TELEPHONE HOURS:

We attempt to connect you with an Attorney up to 10 PM ~ 7 Days a Week!
---
Law Offices of Vincent W. Davis
"You may not own it — But it's still YOUR HOME"
Serving Los Angeles County, Orange County and all of Southern California
---
Where We Can Meet You? - Contact An Attorney Now

Arcadia Office
150 N. Santa Anita Ave,
Suite 200
Arcadia, CA 91006
Phone: (626) 446-6442
Fax: (626)-446-6454
Beverly Hills Office
9465 Wilshire Blvd.
Suite 300
Beverly Hills, CA 90212
Phone: (310)-880-5733
La Mirada Office
Cerritos Towne Center
17777 Center Court Drive ,
Suite 600
Cerritos, California, 90703
Phone: 888-888-6542

Los Angeles Office
Gas Company Tower
555 West Fifth Street,
31st Floor
Los Angeles, California, 90013
Phone: (213)-400-4132
Long Beach Office
Landmark Square
111 West Ocean Blvd.,
Suite 400
Long beach, California, 90802

Irvine Office
Oracle Tower
17901 Von Karman Avenue,
Suite 600
Irvine, California, 92614
Phone: (949)-203-3971
Fax: (949)-203-3972
Ontario Office
Lakeshore Center
3281 E. Guasti Road,
7th Floor
City of Ontario, California, 91761
Phone:(909)-996-5644
Riverside Office
Turner Riverwalk
11801 Pierce Street,
Suite 200
Riverside, California, 92505
Phone: (909)-996-5644
San Diego
Emerald Plaza
402 West Broadway,
Suite #400
San Diego, California, 92101
Phone: (619)-885-2070
Aliso Viejo
Ladera Corporate Terrace
999 Corporate Drive,
Suite 100
Ladera Ranch, California, 92694
Phone: (714) 721-3822