Stay In Your Rental Longer!
Stay In Your Rental Longer!
So that Brightly-Colored Notice taped to Your Front Door




Isn't a friendly invitation to your landlord's Bar-B-Q …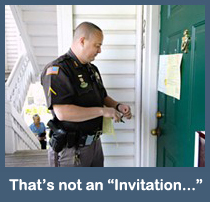 Look closer… Why… it's an Eviction Notice. How nice! You may think that things like this only happen to deadbeats, or perhaps loud, always-partying, 20-somethings in their very first apartment; but here it is happening to you! –Yikes!
Predictably, you are anxious, panic-stricken and MAD too!
Upshot? Your landlord has started evicting you. If you're normal, you are feeling intimidated and impotent as if your life is no longer in your own control.
Move… Right Now?
Seriously !?
Where ?
Damn it, you don't want to move. You don't have the time. You can't really afford it. You're all settled in. Ther is simply WRONG!
Prediction:

If you don't get some Legal Advice

you are not going to Sleep Well
If you just got the Eviction Notice, let us predict that you are not going to get a sound, peaceful sleep tonight! If it as been a day or two, you already KNOW ther…

The landlord seems all-powerful. You don't know what to expect, and what your options are. After-all, he is a professional landlord. You are merely a tenant. Your anxiety is pegging the needle. You are scared because your world just got turned up-side-down. The two most important things you can do are DON'T PANIC and READ all the documents that were served on you and your original rental agreement. These documents contain most of information that you will need to know and share with someone who can help you. That "someone" might be us. You can FAX us your documents and get a 1/2 hour phone consultation for a very affordable $100 fee. Most attorneys won't give you the time of day for five twenties… We will. You will talk with one of four top-notch California Tenant's Rights' Attorneys that can give you the legal advice that will answer all of your questions and give you the knowledge you need to make informed choices..
Get Legal Help…

Take Control…

Stop, Delay or Prolong Your Move
If your landlord tells you to move, it doesn't mean you have to –at least right away – NOT necessarily on your Landlord's terms… You are not powerless. If you have a lease that is not yet up and the landlord is attempting to maneuver you out early – you have options. If your rental unit has health and safety problems – you have options. If your landlord is harassing you (sexually or otherwise); entering your home without your knowledge – you have some potentially-powerful eviction defenses. Even if your landlord is completely in "the right," if you get some legal advice you will learn that you can "Push Back!"
If necessary, you can create your OWN OPTION to delay and prolong your eventual move-out: often for 30, 60, 75 days or longer. STAYING LONGER, delaying your move (on YOUR terms) might buy you the reasonable time you need to save money, find a new place, arrange for some big burly friends who have some big gnarly trucks…
Suggestion:

Your Landlord has a Lawyer

–

You Should too!
Even if you are living at the landlord's discretion, having only a month-to-month agreement, BUT you want to stay –or– absolutely MUST buy some more time, we can likely help you get extra time and, just for the fun of it, give your landlord some of her own medicine! Think of this as a chess game – might as well have some fun here. As soon as you "take control" you will sleep far better! By getting some legal counsel you will get some needed knowledge, and Knowledge is Power! In the end, you may end up having to find a new home –eventually, but you may have a say as to when you actually move to that new home. So, if your landlord is all smug and arrogant maybe you can take him down a peg.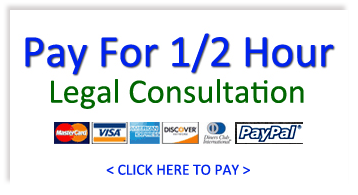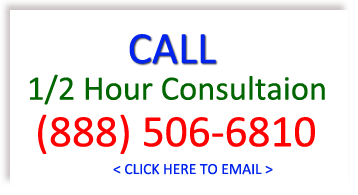 Fight back! Whether you have a STRONG case, a SO-SO case. or NO case at all – you can still get the extra time you might need to locate and arrange for another place, time to save money, and take back some control over YOUR life and YOUR time table. For others, we know that you just want to screw with your landlord because he's "earned it!" Frankly, with some legal know-how, you can do that too!
Please call our California
Tenant's Rights Law Office
at
(888) 506-6810
OFFICE HOURS: Monday - Friday 9:00 am to 7:00 pm.
TELEPHONE HOURS:

We attempt to connect you with an Attorney up to 10 PM ~ 7 Days a Week!
---
Law Offices of Vincent W. Davis
"You may not own it — But it's still YOUR HOME"
Serving Los Angeles County, Orange County and all of Southern California
---
Where We Can Meet You? - Contact An Attorney Now

Arcadia Office
150 N. Santa Anita Ave,
Suite 200
Arcadia, CA 91006
Phone: (626) 446-6442
Fax: (626)-446-6454
Beverly Hills Office
9465 Wilshire Blvd.
Suite 300
Beverly Hills, CA 90212
Phone: (310)-880-5733
La Mirada Office
Cerritos Towne Center
17777 Center Court Drive ,
Suite 600
Cerritos, California, 90703
Phone: 888-888-6542

Los Angeles Office
Gas Company Tower
555 West Fifth Street,
31st Floor
Los Angeles, California, 90013
Phone: (213)-400-4132
Long Beach Office
Landmark Square
111 West Ocean Blvd.,
Suite 400
Long beach, California, 90802

Irvine Office
Oracle Tower
17901 Von Karman Avenue,
Suite 600
Irvine, California, 92614
Phone: (949)-203-3971
Fax: (949)-203-3972
Ontario Office
Lakeshore Center
3281 E. Guasti Road,
7th Floor
City of Ontario, California, 91761
Phone:(909)-996-5644
Riverside Office
Turner Riverwalk
11801 Pierce Street,
Suite 200
Riverside, California, 92505
Phone: (909)-996-5644
San Diego
Emerald Plaza
402 West Broadway,
Suite #400
San Diego, California, 92101
Phone: (619)-885-2070
Aliso Viejo
Ladera Corporate Terrace
999 Corporate Drive,
Suite 100
Ladera Ranch, California, 92694
Phone: (714) 721-3822