Traumatic Injuries at Apartment Complexes
The Law Office of Vincent W. Davis focuses on

defending the rights of California TENANTS to a safe, healthy and secure home.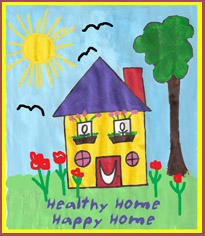 California Premises Liability Attorney Vincent W. Davis represents the victims of injuries that occur at a premises such as a rental home or apartment. If necessary, Attorney Vincent W. Davis will put together a team of experts to explain how a defective condition violates the law, how it caused the injury and the medical care that will be required to address the injuries.
Hazardous conditions can at times develop in a house or apartment sometimes resulting in serious personal injuries. Slick, slippery stairs, safety railings may become defective, trip hazards may exist, fire alarms and/or smoke detectors may not operate leading to injuries or worse.
A rental property owner or a large apartment complex owner (your "landlord") who leases an apartment can be held legally responsible to the tenant and the tenant's guests for dangerous conditions existing in the rental unit that the landlord does not inform the tenant about. A landlord is generally not liable to third persons if the dangerous condition in the tenant's home or apartment unit that causes injures comes into existence after the tenant takes possession of the premises (in other words: the dangerous condition is created by the tenant).
Landlord's Duty To Inspect
Before leasing a home or an apartment unit to a prospective tenant, the landlord has a duty to inspect the unit to make sure it is reasonably safe from dangerous conditions. The landlord's duty to inspect the unit before renting it out extends only to those matters and conditions that would have been disclosed by a reasonable inspection. The landlord is not required to take extraordinary measures or make unreasonable expenditures of time and money in trying to discover every potential hazard unless the circumstances justify it. Moreover, if a dangerous condition arises in the rental home or apartment unit, the tenant should promptly report the dangerous condition to the landlord and the landlord must repair it within a reasonable period of time after learning of the dangerous condition.
Landlord's Duty to Keep Common Areas Safe & Hazard-Free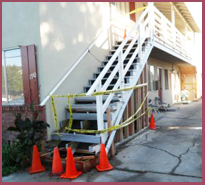 A landlord has a legal obligation to use due diligence and care for the safety of her tenants and their guests and to keep those areas of the property under the landlord's control (i.e. the common area) in a reasonably safe condition. A landlord is required to keep the common areas —pool, spa, tennis courts, elevators, stairways, walkways, landscaping, etc.—in a reasonably safe condition and good repair, and can be held liable for injuries caused on the common area by a dangerous conditions that the landlord should have repaired or at least warned tenants about.
The owner of an apartment complex can be held liable because:
The owner promised to make a repair to a faulty condition in your unit but failed to do so in a timely manner
The owner, or her employee, made the repair, but did so in a careless or "negligent" manner
The owner knew of a dangerous condition not known nor apparent to the tenant at the time the lease was signed, and neither fixed it or informed the tenant of it
The owner has violated building and safety laws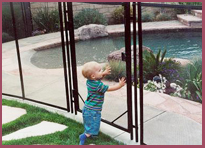 Suppose that your apartment complex has no fence or a defective fence around the pool or Jacuzzi area, allowing infants to gain access to the pool or Jacuzzi. If a child drowns in the swimming pool or Jacuzzi because s/he gained access because of a messing protective fence or a broken gate on a not-well maintained fence, the landlord can be held liable for the child's wrongful death. The landlord or her or her agents must make periodic inspections of the fencing around the pool and Jacuzzi to ensure there are not holes large enough for small children to crawl through. The landlord must also make periodic inspections to make sure the self-closing and self-latching gates are in working order.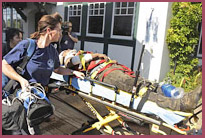 If you or a loved one has been injured or a loved one killed in an apartment-related accident, you should contact an experienced attorney as soon as possible. A competent attorney will send its own investigator to the scene of the accident to inspect it and take pictures of the accident site and any dangerous condition that caused or contributed to the accident before the conditions are changed, repaired or altered (for proper reasons to to hide the facts). The attorney or her or her investigator will want to talk to any witnesses to the accident while the facts are still fresh in their minds.
You Need an Experienced & Compassionate Attorney on Your Side
An experienced and compassionate attorney can help you obtain appropriate and thorough medical care for your physical and emotional injuries suffered as a result of the premises accident. Additionally, they can do everything possible to ensure that you obtain full monetary compensation for your medical expenses, pain and suffering, mental anguish, property damage, lost wages, psychological injuries, and all of your other injuries and damages.
We completely understand the physical, financial, and emotional toll a an apartment-related injury or death can take on the injured victim and their family members. To make an appointment, please call Attorney Vincent W. Davis.
Please call our California
Tenant's Rights Law Office
at
(888) 506-6810
OFFICE HOURS: Monday - Friday 9:00 am to 7:00 pm.
TELEPHONE HOURS:

We attempt to connect you with an Attorney up to 10 PM ~ 7 Days a Week!
---
Law Offices of Vincent W. Davis
"You may not own it — But it's still YOUR HOME"
Serving Los Angeles County, Orange County and all of Southern California
---
Where We Can Meet You? - Contact An Attorney Now

Arcadia Office
150 N. Santa Anita Ave,
Suite 200
Arcadia, CA 91006
Phone: (626) 446-6442
Fax: (626)-446-6454
Beverly Hills Office
9465 Wilshire Blvd.
Suite 300
Beverly Hills, CA 90212
Phone: (310)-880-5733
La Mirada Office
Cerritos Towne Center
17777 Center Court Drive ,
Suite 600
Cerritos, California, 90703
Phone: 888-888-6542

Los Angeles Office
Gas Company Tower
555 West Fifth Street,
31st Floor
Los Angeles, California, 90013
Phone: (213)-400-4132
Long Beach Office
Landmark Square
111 West Ocean Blvd.,
Suite 400
Long beach, California, 90802

Irvine Office
Oracle Tower
17901 Von Karman Avenue,
Suite 600
Irvine, California, 92614
Phone: (949)-203-3971
Fax: (949)-203-3972
Ontario Office
Lakeshore Center
3281 E. Guasti Road,
7th Floor
City of Ontario, California, 91761
Phone:(909)-996-5644
Riverside Office
Turner Riverwalk
11801 Pierce Street,
Suite 200
Riverside, California, 92505
Phone: (909)-996-5644
San Diego
Emerald Plaza
402 West Broadway,
Suite #400
San Diego, California, 92101
Phone: (619)-885-2070
Aliso Viejo
Ladera Corporate Terrace
999 Corporate Drive,
Suite 100
Ladera Ranch, California, 92694
Phone: (714) 721-3822